Join the Mr. Dinklepuss/Rachel Fan Club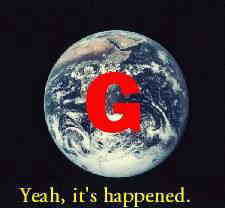 Hello, and welcome to GeorgTrek's World Of Weirdness & Fun. We're glad to have you here, today, please have a seat.
First a little about myself. I'm George B. (GeorgTrek) and I'm from Dayton, Ohio. My primary interests are computers, reading, having fun, and school. Please make yourself at home, and visit as often as you like, we're glad to have you. (I just love using those "we" phrases, it makes it sound like my page is a restaurant or hotel or something.) Oh, by the way, to seriously improve the quality of text you see on my page, download Microsoft's Font Smoothing Utility from Microsoft's Website. Not only does this improve text quality on your computer, but it also gives you features such as a sliding taskbar, full window drag, and better looking icons on your desktop. Just look for the Plus! tab on your display control panel to turn on or off these features. Oh, in order to use this, you *really* should have a Pentium system with 32 megabytes of memory, 16-Bit color display, Windows 95, and a fast video card.



About Updates



For those few visitors who I might still have to this page, you're probably wondering about the lack of content. The reason is that I've put my time, since August into GeorgTrek's Tomb Raider Site. This is my Tomb Raider fan site. There, just about anybody, even if they're not a TR fan can probably find something of interest. If you'd be nice enough to stay, I'd appreciate it if you contact me in some way, either by signing 1 of my 2 guestbooks, using my message board, or filling out my form. Thanks!

Sign My GuestPage

View My GuestPage
Please Choose A Subpage Below:
Visit My Tomb Raider Site!
Download 10 SC 2000 cities I made myself!
See a picture of my computer desktop
Leave A Message on My Answering Machine
Get a Free Link and View Links Submitted (Updates Automatically!)
Visit My Chat Room
Save The Channel 1 Kidsboard
What's New?
See the Winners of My Award!

See My Links
Star Trek
View My Guinea Pigs Page
Please, please, please fill out my form!
See My Webrings!
Awards Central
Music Directory
Hear My Voice (About 128 K)
Hear My Voice In Spanish (About 140 K)





Special Thanks To:


Mr Dinklepuss!
Join The Mr. Dinklepuss Fan Club
Tripod (My Website Provider)
Broadcaster (Advertise Your Site For Free)
LinkExchange Banner Ads
FastCounter
Susan
CoolMorph
Frankvad (Frankvad's Links Site)
This page last updated: December 17, 1998
Please click on the graphic to vote for this
page as a Starting Point Hot Site







LE FastCounter