Main Page
Tomb Raider 1
Tomb Raider 2
Tomb Raider 3

Links
Croft Info
Awards
Downloads
Message Board
TR Ring
My Webrings
TR Award
TR Test


LE FastCounter
Sign Tombbook
View Tombbook








Tomb Raider Links



*Please don't submit anymore links to me! I'm not putting anymore up here because I'm closing.*

Priority Link: Antagonist Incorporated
Antagonist Inc. is a major gaming network. I participated in their Tomb Raider Trivia Quiz on AOL and won, and they gave my site a week of free advertising. I'm returning the favor here. Check them out!

Priority Link: Watered Down Productions
The manager of Watered Down Productions, Gojira69@earthlink.net won my GeorgTrek's Tomb Raider Site 10,000 visits contest. Although not a Tomb Raider site, his site features information on various topics. These include (but are not limited to) music, X-Files, genealogy, and HTML reference. Gojira69 has been a member of the online world since 1997.

1. Joe's Tomb Raider Site
I haven't visited this site lately, as it's had some major problems. However, it still has a vast amount of TR info and hosts a number of good Tomb Raider fan sites.

2.


The Croft Times is the news and information site for Tomb Raider games and Lara Croft. The Croft Times forums (recently added) are a great place to receive help and chat generally about TR. The information on all TR games, links, and downloads are superb. Finally, it is also host to a number of great TR websites. If you need an International version of the Croft Times visit The Croft Times International.

3. Eidos Tomb Raider Site
Official Eidos Tomb Raider 3 site. Has info on all aspects of the game. Also home of Lara's World/Calendar, TR archives, and chat coming soon!

4.


The website of the creators of TR games. Not updated much.

5. Tomb Raider Kicks
This is my sister's TR fan page, also known as, A Shrine to the Great Lara Croft. Has some basic cheat codes, links, and information on locking Winston (the butler) in the meat locker and killing Lara in her own home.

6. Tomb Raider Terrace
Has comprehensive info on TR1 and TR2. Also a good media gallery. No TR3 info.

7. The Croft Loft
Was apparently planning to release TR3 info, but never got around to it. You're best off going to another site.

8. The Tomb Raider II Archive
It hasn't been updated in a long time, but hey, it is an archive. Filled with useful information, Downloads, good links, info, and much more.

9. Mr. Wolf's Tomb Raider Site
Was on the verge of closing, but managed to hang in there. Now has a walkthrough and cheat codes for TR3 as well as comprehensive info on the other games.

10. Juan & Speed's Tomb Raider Site
Version 5.0.1 (Issue 49) as of this update. An extraordinary amount of info, walkthroughs, cheats, links, downloads, fun stuff, and other things related to Tomb Raider. TR3 info is somewhat lacking, but oh well.

11.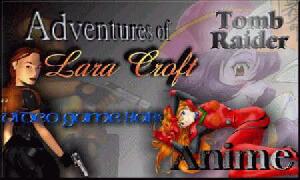 When you click on the link above, it will take you to the original Lara's Place site. However, you can click on to TombRaidr's new Adventures of Lara Croft Site. There, you'll find info about TR3, as well as upcoming information on anime and such. Some of the text is difficult to read, site is still under construction.

12. Complete Tomb Raider Gold Walkthrough
A very good TR Gold walkthrough. I've found a couple others since I added this, but this one is the best. If you're having trouble with TR Gold, check this out.

13. 5 Star Tomb Raider
Has some pretty cool links (find out the top scores for the obstacle course). Had fun with the Top 10 list. Has recently added more info on TR games and changed layout. Good news page. Also calls itself RX Tech Mines. Submitted by Author!

14. Visions of Lara Croft
An extensive TR site with info on all TR games. Also has good Lara Croft Info, downloads, and fan areas. Some text is a bit hard to read against the background. Submitted By Author!

15. Tomb of Xian
A site featuring some good info on killing bad guys in Tomb Raider 1 and 2, TR3 information, plus quite a few links. Not really well organized into subpages. A few bonus points for having a linkt o my site near the top. Submitted by Author!

16.


Game info, TR3 info, cheats, and such. May crash your browser if you're not using a good one! Not as well organized into subpages as it could be.

17.


Stupid Lara Tricks! Elevators, goon killing, and much more! General links and info too. Some very neat TR3 Lara's home tricks. Good use of java. (Click on the top banner to enter. You may miss it.)

18.


Lots of info on hex editors, cheats, and other general information. Huge main page, not very organized, but okay if cheats and editors are your thing. Submitted By Author!

19. Tomb Raider Elite
Has a new and improved layout. Tomb Raider Elite is not yet the official name, but will be soon. Hasn't updated since January 1, but has good TR info and look.

20. Tomb Raider Fan Page
HommiH's Tomb Raider fan page. Has tips, saved games, and cheats, movie info, basic Lara Croft info, news, and more. Not much TR3 info. Submitted by Author

21. TombRaiders
This is a great TR site a friend told me about. Has a good news page, plus info/walkthroughs for all TR games. Nice look.

22. TombRaider.net
Has good TR3 info and links. No vintage TR info.

23. Chris's Tomb Raider 3 Page
Had some little Tomb Raider 3 tricks that I didn't know. Some nice pictures too, and walkthroughs. Main page is seriously bloated and kind of hard to read though. No vintage TR info that I could find.

24. Lara's Temple
Part of the Croft Time's Network, Lara's Temple has some of the best info there is. It has info, cheats, saved games, and screen shots for all Tomb Raider games, plus info on Lara Croft and models. Recently featured a TR3 contest.

25. Tomb Raider X's
Has a very good news page, although the text is somewhat hard to read. Sorry, not much vintage TR info, although good TR3 info, cheat codes, links and message board.

26.


This site has hundreds of links to various Tomb Raider fan sites. Most of them have been assigned a rating from 1-5 stars. (If you're not happy with your rating, you may contact the author for suggestions.) It also contains Tomb Raider downloads, a news page, and various other tidbits.

27. Tomb Raider at TEKKNO 99
Has very good information on TR3 as well as info on Lara Croft. Also has an award to win. Submitted By Author

28. Tomb Raider Traveler's Guide
Has good walkthroughs for all three Tomb Raider games (including Gold), as well as information on Lara Croft.

29. EEP2 Tomb Raider
Please support the idea of a Tomb Raider level editor. Visit this site and read all about. Core and Eidos are trying to stop it, but I think they're making a mistake.

30. Planet Croft
Thanks to everyone's support, this site was saved from closing. It's been around for three years, and has had over 100,000 visits. A great Tomb Raider authority. Now coming back stronger than ever. Be sure to visit!

31. TR2000
Sorry, I'm closing up, and I don't really know much about this site. It's on the Croft Times network though, so it's good, okay? Submitted by Author!


This page last updated: June 16, 1999
Last completely scanned for broken links and updated descriptions: February 1, 1999